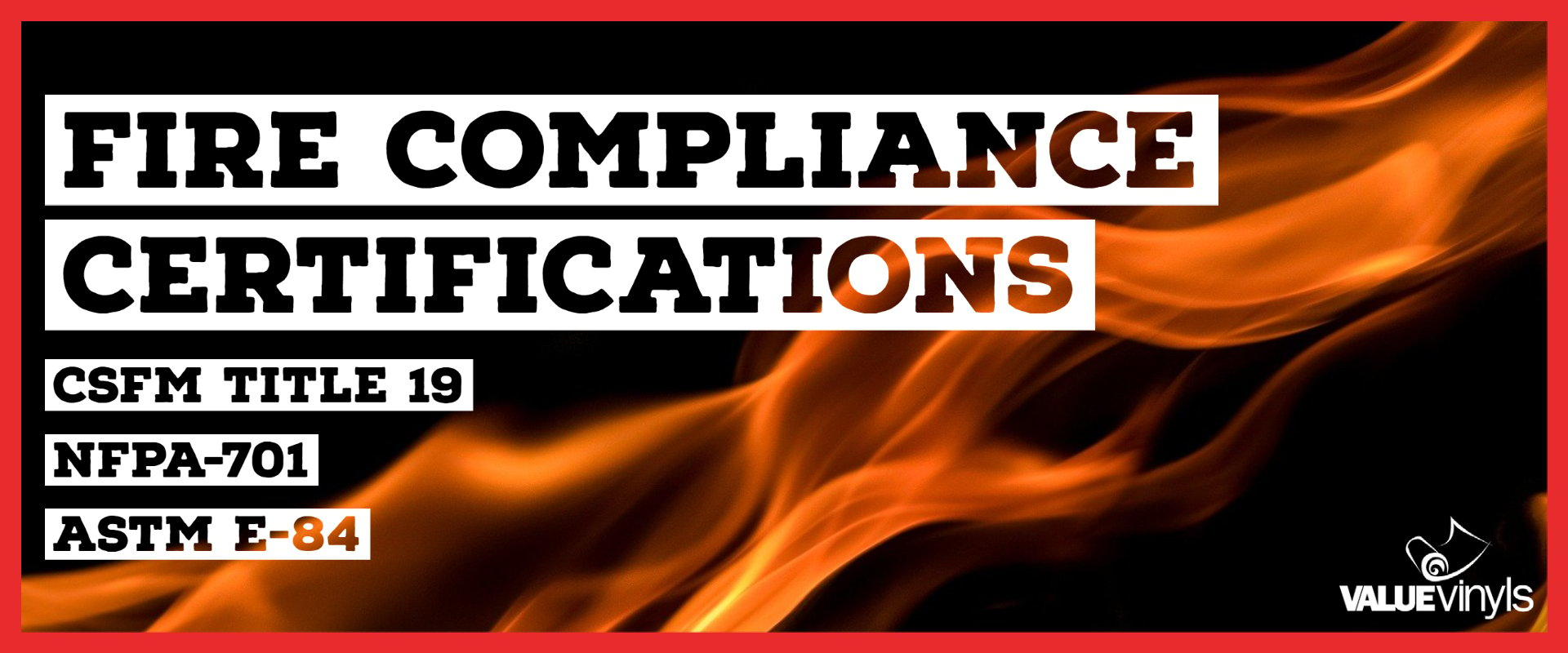 Fire retardancy is a required safety standard for industrial fabrics used for various private and public uses such as awnings, event tents, gym divider curtains, even theater drapes and curtains.
Value Vinyls ensures our products meet the rigorous fire safety requirements of three industry tests.
1. CSFM Title 19
California's Code of Regulations requires structures or elements within buildings made with industrial fabric, like Value Vinyls' Soluna and Champion MVP 14, to have a CSFM Title 19 certification.[1]
In order to attain a CSFM Title 19 certification, fabric samples must be tested twice; first at an approved independent lab, then at the official Office of the State Fire Marshal in California. Fire Marshals ensure the fabric samples meets California's flammability standards, then send the official certification when completed.[1]
2. NFPA-701
Public institutions like schools, churches, and theaters require fabric used for drapes, awnings, tents, tarps, and curtains to be flame retardant. The National Fire Protection Association (NFPA) developed a standard of fabric flammability called NFPA 701. There are two methods of testing according to how the fabric will be used; Test Method 1 (interior) and Test Method 2 (exterior).[2]
The fabric passes the test if it meets the different flame and performance criteria of the test methods.[3]
3. ASTM E-84
The American Society for Testing and Materials (ASTM), Test Method E-84 or ASTM E-84, comparatively measures the surface burning traits of industrial fabrics by observing flame spread and the amount of smoke developed. [4] This classifies the fabric as Class A, Class B, or Class C. Value Vinyls' fabrics meet Class A standards as they have the lowest flame spread and smoke development.[5]
We at Value Vinyls hold ourselves to a high standard of performance and quality. By following the steps to reach fire compliancy, we make sure every need is met and instill trust in our products.
References:
[1] https://advancedtextilessource.com/2015/05/08/essential-basics-from-cal-fire/
[2] https://specialtyfabricsreview.com/2008/06/01/understanding-the-differences-between-nfpa-and-csfm/
[3] https://www.nfpa.org/codes-and-standards/all-codes-and-standards/list-of-codes-and-standards/detail?code=701
[4] https://www.astm.org/Standards/E84.htm